Plastic Bag Pollution and the Environment.
Australia may be only a small country of 20 million people but in 2002 Australians used nearly 7 billion plastic shopping bags (1-5) and it is estimated that up to 80 million of these bags ended up littering our environment (2,3). In Ireland the consumption of 1.2 billion plastic bags annually led to the introduction of a tax paid by consumers (5,6) while British consumers use 8 billion plastic bags annually (7). Globally 500 billion-1 trillion plastic bags are used annually (8,9) or 1 million plastic bags every minute (9), while more than 200,000 plastic bags are dumped in landfill sites every hour (10). More than 4-5 trillion bags were manufactured globally in 2002 (11). Plastic pollution is becoming an increasing environmental problem (8,12-17).
According to the Age Newspaper (18):
"In China, polythene bags blowing around the streets are called 'white pollution'. In South Africa, their visual presence around the countryside has won them the title of 'national flower'. In India, multi-coloured plastic bags are everywhere, hanging off trees, lining river banks, blowing down railway lines, choking sacred cows and holding together every pile of rubbish the eye can see.   But plastic bags are not only lethal to animals. In Bangladesh, serious flooding that caused major loss of life was linked to plastic bags blocking drains."
Wildlife Pay the Price for Plastic Bag Pollution.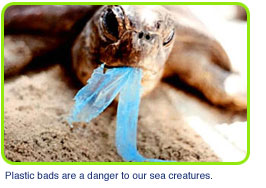 It is estimated that (19) "tens of thousands of whales, birds, seals and turtles are killed every year" by plastic bags. Whales have been reported killed by plastic or plastic bags in Cairns, Australia (19), and also in New Zealand (20). At the pretty rural seaside resort of Kiama in New South Wales, Australia, a pelican was found dead after eating 17 plastic bags (19,21). Even sea birds in Alaska (22) and around the world are frequently contaminated with plastic (23,24).
'Pete' the Pelican.
In 1998, a pelican was found dead in Kiama after eating 17 plastic bags (19,21).
The pelican presumably thought the plastic bags were food. The pelican was preserved and named Pete. Since then he has been standing in front of a sign at Fitzroy Falls that informs visitors of how he died and the problems of plastic bags and ocean pollution.
Photos courtesy of Planet Ark and thames21.