Since retailers and consumers need to keep informed regarding the new regulations pertaining to the banning of plastic bags in South Australia, the implementation guidelines of these regulations are listed below, courtesy of BYOBAGS. Although the regulations commenced on the 1st January 2009, the first 4 months, until 3rd May 2009, are intended to be a phase in or transition period. Not until the 4th of May will the sale of single use plastic bags become illegal in South Australia.
Important Dates
From 1st of January 2009 retailers have 4 months to organise stock of alternative bags and use their stock of lightweight, checkout style plastic bags. The aim should be to stop using single use plastic bags as soon as possible, offer alternative acceptable shopping bags and tell staff what the new law will mean to them. Retailers should develop procedures for offering alternative bags and handling heavy reusable bags.
Though lightweight, checkout-style plastic bags can still be provided until 3rd of May, retailers must also have acceptable alternative shopping bags available for customers. Retailers are also required to display the following sign, with a minimum size of 95mm (height) x 150mm (width) (unless an electronic message is used on the cash register screen), at every cash register or checkout:
"The South Australian Government is banning the supply of lightweight, checkout-style plastic shopping bags from 4 May 2009. Alternative shopping bags are available from this retail outlet."
On 4th May 2009 it will become an offence, with an on the spot fine of $315 and a maximum penalty $5,000, for any retailer which continues to supply banned single use plastic bags in South Australia. Customers should be reminded and notices should be displayed regarding the ban of plastic shopping bags.
Which Bags Will be Banned?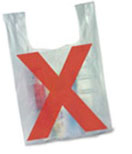 The South Australian government has specified that it will be an offence to supply plastic shopping bags "with handles made of polyethylene polymer less than 35 microns thick." Also banned will be "plastic bags with 100% degradable printed on them" because "degradable plastics merely break down into smaller and smaller flakes which remain as damaging waste for many years." The fines will apply if you either sell or give away the banned plastic bags.
Retailers will also be protected from unwittingly buying banned bags to supply to their customers. There will be a maximum penalty of $20,000 for any supplier who supplies banned shopping bags from 4th May 2009.
Every retail outlet in South Australia must comply with the new regulations banning single use plastic bags, including take-away food shops and markets.
Which bags will be permitted?
The following bags may continue to be used after 4th May.
(information/images reproduced from http://byobags.com.au/About.mvc/Resources?Nav=177 )

Where do I obtain more information?
Plastic Bag Ban Hotline 1300 137 118 or SDA Freecall 1800 806 398
Email: zerowaste@zerowaste.sa.gov.au
Web site: byobags.com.au